Corneal Transplant
Our West Hills office is proud to serve the Greater Los Angeles Area
Coming from: Encino, Sherman Oaks, Thousand Oaks, and Westlake Village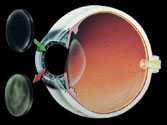 Conditions which alter the normally smooth contour of the cornea or lead to clouding of the normally crystal clear cornea, can lead to vision loss. When the vision loss is severe, a corneal transplant may become necessary. These conditions include, but are not limited to: trauma, infections of the cornea, keratoconus, Fuch's Dystrophy, and chemical
injury
.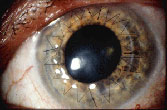 Corneal transplant surgery involves removing the patient's damaged cornea and replacing it with a clear donor cornea. The procedure takes approximately one hour to perform and is normally done on an outpatient basis (you can go home the same day). Corneal transplants are the most successful transplant in the body with success rates from 85-95%. Like most eye surgery, corneal transplants are performed under an operating microscope which magnifies the eye 30 to 60 times. Serious complications are uncommon, but include graft rejection, infection, and bleeding in the eye.
While most patients are able to care for themselves within one to two days after surgery, it is important to refrain from heavy lifting or swimming for three to four weeks. The recovery of clear vision often takes several months. Glasses or contact lenses may be needed to achieve functional vision. Additionally, refractive procedures such as LASIK may be performed once the corneal transplant has healed.
For certain ocular conditions that result in permanent corneal edema (swelling), newer tissue sparing transplant methods (such as DSEK: Descemet's Stripping with Endothelial Keratoplasty) enable patients to achieve a more rapid visual recovery. Because the vast majority of the patient's cornea is left intact, the eye is stronger and more resistant to injury than with traditional corneal transplants, and most suture-related complications can be avoided.
The LASIK Textbook author
LASIK surgical technuquies and complications
Learn more about why you should choose to have your vision correction procedure performed at Davidorf Eye Group. Providing excellence in eye care to Greater Los Angeles.
LASIK Self Evaluation Test
Would you like to find out if you are a LASIK candidate? If so please take our self-evaluation test and one of our staff will be in touch with you to discuss your LASIK candidacy. Los Angeles LASIK specialist Dr. Davidorf, invites you to also come into our office for a complete LASIK eye exam.
LASIK - Laser Eyer Surgery Los Angeles
If you are seeking LASIK in Los Angeles call us today to get the answers you have been seeking. We offer free LASIK consultations so that our patients can make informed decisions from experienced professionals.
See Clearly After Cataract Surgery
Cataract patients now have an option to see at both near, intermediate and far distances after cataract surgery! Individuals suffering from cataracts previously had only a mono-focal lens implant option after surgery. NEW multi-focal IOL technology can now decrease dependence on glasses after surgery. If you are seeking the Rezoom™ or ReSTOR® IOL lens options Dr. Davidorf is a certified cataract surgeon in Los Angeles that can help. Your source for Los Angeles cataract surgery!
Article Database
If you are researching NEW in Eye Care or Laser Eye Surgery please feel free to read our collection of articles involving Dr. Jonathan Davidorf.
Visian ICL ™
Have you been told you are not a candfidate for LASIK. The Visian ICL can correct nearsightedness beyond the level of LASIK eye surgery. Learn why Dr. Davidorf is one of the TOP Visian ICL surgeons in Los Angeles!