Michelle Vartanian, O.D.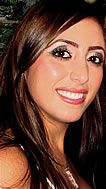 Michelle Vartanian, O.D. is a Board Certified Optometrist specializing in preoperative and postoperative care of patients at Davidorf Eye Group. She also provides comprehensive eye exams, contact lens examinations and is involved in FDA clinical trials. Prior to arriving at Davidorf Eye Group, Dr. Vartanian was an active participant in the Gift of Sight Program which provides free eye exams and eyeglasses to patients in need.
After receiving her Doctorate from Southern California College of Optometry, Dr. Vartanian did clinical rotations at the Wellish Eye Institute in Las Vegas, Nevada.
She graduated with a Bachelor of Arts Degree in Psychology and a Minor in Gerontology from University of California, Los Angeles.
Dr. Vartanian is a member of several organizations. These include the American Optometric Association, San Fernando Valley Optometric Society, California Optometric Society, AOA Contact Lens Section, and the Los Angeles County Optometric Society. She was recently selected Who's Who among Young Doctors in America.
Dr Vartanian advocates patient education and providing the highest quality of care in assisting patients to achieve their best possible vision. Having had LASIK performed by Dr. Davidorf, she can guide prospective candidates through the entire process from a patient's perspective.
An active member of the community, Dr. Vartanian enjoys donating her time to several charities and organizations throughout Greater Los Angeles.
The LASIK Textbook author
LASIK surgical technuquies and complications
Learn more about why you should choose to have your vision correction procedure performed at Davidorf Eye Group. Providing excellence in eye care to Greater Los Angeles.
LASIK Self Evaluation Test
Would you like to find out if you are a LASIK candidate? If so please take our self-evaluation test and one of our staff will be in touch with you to discuss your LASIK candidacy. Los Angeles LASIK specialist Dr. Davidorf, invites you to also come into our office for a complete LASIK eye exam.
LASIK - Laser Eyer Surgery Los Angeles
If you are seeking LASIK in Los Angeles call us today to get the answers you have been seeking. We offer free LASIK consultations so that our patients can make informed decisions from experienced professionals.
See Clearly After Cataract Surgery
Cataract patients now have an option to see at both near, intermediate and far distances after cataract surgery! Individuals suffering from cataracts previously had only a mono-focal lens implant option after surgery. NEW multi-focal IOL technology can now decrease dependence on glasses after surgery. If you are seeking the Rezoom™ or ReSTOR® IOL lens options Dr. Davidorf is a certified cataract surgeon in Los Angeles that can help. Your source for Los Angeles cataract surgery!
Article Database
If you are researching NEW in Eye Care or Laser Eye Surgery please feel free to read our collection of articles involving Dr. Jonathan Davidorf.
Visian ICL ™
Have you been told you are not a candfidate for LASIK. The Visian ICL can correct nearsightedness beyond the level of LASIK eye surgery. Learn why Dr. Davidorf is one of the TOP Visian ICL surgeons in Los Angeles!