Monofocal, Multifocal & Accommodative Lenses
Monofocal, Multifocal & Accommodative Lenses
Our West Hills office is proud to serve the Greater Los Angeles Area
Coming from: Encino, Sherman Oaks, Thousand Oaks, and Westlake Village
Following removal of the eye's natural crystalline lends during either cataract or Clear Lens Exchange surgery, we have the option of implanting a variety of intraocular lenses. These lenses include the standard single vision lens, the Toric astigmatism correcting lens, the ReSTOR and TECNIS multifocal lenses and the accommodative Crystalens. Any of the lenses we use can be implanted through a self-sealing (usually without stitches) opening of less than 2.4 mm (varies somewhat based on lens design).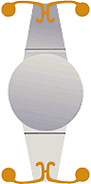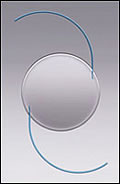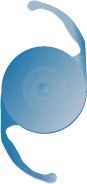 Most common is the standard single focus lens implant which gives the surgeon the opportunity to correct the patient for either distance vision in both eyes or for monovision, also known as "blended vision". With monovision, the surgeon corrects your dominant eye for seeing at distance and your non-dominant eye for near vision, thereby reducing the need for reading glasses. When both eyes are functioning together, the brain naturally selects the image from the eye that has the clearer focus. Having eyes for different purposes might sound unsettling, but many patients do very well with monovision. Blended vision simply refers to monovision with a smaller discrepancy between the eyes. Monovision and blended vision are common goals for patients over the age of 40, whether they are having laser vision correction (i.e., LASIK of PRK) or an implantable lens procedure (i.e., cataract or Clear Lens Exchange surgery). This allows patients to achieve good functional vision at both distance and near without the need for glasses or contact lenses.
The LASIK Textbook author
LASIK surgical technuquies and complications
Learn more about why you should choose to have your vision correction procedure performed at Davidorf Eye Group. Providing excellence in eye care to Greater Los Angeles.
LASIK Self Evaluation Test
Would you like to find out if you are a LASIK candidate? If so please take our self-evaluation test and one of our staff will be in touch with you to discuss your LASIK candidacy. Los Angeles LASIK specialist Dr. Davidorf, invites you to also come into our office for a complete LASIK eye exam.
LASIK - Laser Eyer Surgery Los Angeles
If you are seeking LASIK in Los Angeles call us today to get the answers you have been seeking. We offer free LASIK consultations so that our patients can make informed decisions from experienced professionals.
See Clearly After Cataract Surgery
Cataract patients now have an option to see at both near, intermediate and far distances after cataract surgery! Individuals suffering from cataracts previously had only a mono-focal lens implant option after surgery. NEW multi-focal IOL technology can now decrease dependence on glasses after surgery. If you are seeking the Rezoom™ or ReSTOR® IOL lens options Dr. Davidorf is a certified cataract surgeon in Los Angeles that can help. Your source for Los Angeles cataract surgery!
Article Database
If you are researching NEW in Eye Care or Laser Eye Surgery please feel free to read our collection of articles involving Dr. Jonathan Davidorf.
Visian ICL ™
Have you been told you are not a candfidate for LASIK. The Visian ICL can correct nearsightedness beyond the level of LASIK eye surgery. Learn why Dr. Davidorf is one of the TOP Visian ICL surgeons in Los Angeles!